The Best Email Marketing Strategies for 2021
Email marketing is effective. How effective? The ROI for email marketing can be as high as 4400%! That's $44 for every dollar you spend. That's why no matter how trendy social advertising is or what result you can drive directly from your site, no smart marketer would be caught dead without an effective email marketing strategy.
As profitable as email marketing can be, there's a huge difference between what leads to a conversion and what gets directed to spam. 
That's why we've put together these essential email marketing strategies for 2021—but nothing's stopping you from harnessing their potential right now!
Why You Should Be Sending Marketing Emails
Many business owners say something along the lines of: "well, I never open those emails, so what's the point of me using them?" First of all, did you see that ROI? Secondly, you're not everybody, and effective email marketing is also a number game. But finally, you likely didn't open them because they weren't effective.
There are very important reasons to use marketing emails like:
Building deeper connections with your existing customers via personalized engagement
Growing awareness of your brand to inform potential customers
Sharing original content that may be valuable to prospects
Generating new leads through content and offers
Promoting your products and services
Nurturing leads by providing useful content
Reconnecting with clients, you may have lost touch with
Step 1: Create an Integrated Strategy
Your entire marketing efforts should be harmonized and work to feed each other. You should use social to drive short-term leads and SEO to build up long-term results. Meanwhile, everything should feed into your email list.
Take advantage of lead capture tools like forms and pop-ups to get emails? Why? Because email marketing gives you a built-in audience and emails. The average open rate is still 21%, and that's without necessarily applying some of the useful strategies we're giving you.
Step 2: Don't Always Focus on the Hard Sell
Your goal should also be to nurture your leads. Through nurturing, you will succeed in conversion. This is doubly important with B2B contacts where so much is based on your products and your reputation.
You don't have to use every email to drive sales. Instead, find different ways to engage your audience. But more so, demonstrate your expertise in the arena. For example, if you market tech solutions, then discuss the latest certifications in an email. This will naturally show off your company's special skills and why people should work with you.
Step 3: Less May Be More
We all have unsubscribed from companies that have abused our email addresses. Don't bombard your audience, especially don't offer services that people might want to use daily.
SendGrid's 2019 benchmark study proved that companies that scale back interactions have higher open and click-through rates.
For example, if you offer tax services, then you might find it necessary to send more emails in the lead up to tax deadlines. That's fine. But there's no reason to bombard your users when the deadline is 6-months out. Instead, give them the incentive to re-engage early or showcase your other services.
Remember, it's about quantity. Don't hammer your recipients with irrelevant emails. If you do, they may never open one of your emails again. Create value and start slowing. That way, when a recipient does see your email in their inbox, they'll right away know it's something they must see.
Bonus Tip: Don't Buy Your List
Forget the ethics of it. It's just a bad idea. You don't need a list of strangers who have no connection to your brand. Take the time and build your list the right way. You'll get much better results and prevent your emails from your getting blacklisted. And, you're better than that anyway!
Step 4: Don't Focus Too Much on Graphics and Design
Nowadays, it's easier than ever to use templates to create fancy emails with cool graphics. They look super professional, so it's easy to think, "well, that's what I should do then."
While we do live in a media-heavy society, this is another incident where less may be more. These fancy emails tend to look impersonal, which is why people are less inclined to click on them.
Take a look at the marketing guru Neil Patel's email above. See any images? See any graphics? Nope. Did we click on it? Absolutely. Not just because it felt more like an email from a friend than a business, but because it further establishes that he doesn't have to rely on tricks, just his reputation for getting you to click.
One more bonus about keeping your email light is that it reduces the likelihood of something going wrong. With so many different screen sizes, you never know exactly how your email might appear. Lighter emails load more quickly and ensure consistency.
Step 5: Harness the Right Email Marketing Tools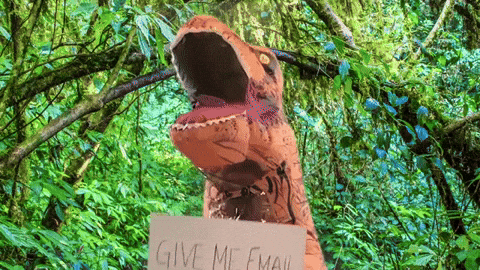 You probably have an email marketing solution in place. If not, then you have bigger fish to fry! But not all tools are created the same. And likewise, you might not need all the bells and whistles some expensive service offers.
First and foremost, you do need something. Managing your email, the old school way doesn't only take too much time, but you won't have access to key analytics and other great features.
But that doesn't mean you have to break the bank. There are tons of services that are even free up to 1,000 users. Check out options like MailerLite and Sendinblue to see lower-cost email marketing clients that still pack a punch.
But once you do scale up to 10,000 plus subscribers, you will need to start looking at more robust solutions. Likewise, this is when you don't want to be cheap. Find one that can grow with you.
Finally, don't forget to pay attention to deliverability rates. You don't want your messages ending up in spam or promotions. Compare and contrast what the email marketing clients offer in this domain and choose accordingly.
Step 6: Automation
Again, you may already have some light familiarity with automations. Most businesses have at least set up basic automation once a user signs up on their site. They might receive a welcome email and maybe even a promotion.
But automations are much more powerful than that. You can use them to save a ton of time and create more touchpoints with your customers, and better segment them to create a plethora of new opportunities.
For instance, you can create an automation that is time for certain intervals, and that sets off different responses based on how the user engages with your email. The result is a more complete sales funnel while also recapturing leads that you may be on the verge of losing.
Concurrently, you also need to extend your automations into other areas. Automations can also directly integrate into a whole range of other apps. For example, you can set up automation for customers who place orders and then automatically send those orders to your inventory management software.
The possibilities are truly endless. Do note that automations can take a little time to really set up effectively. This is where it may be effective to hire a few experts to take care of that for you. The headaches that save you from and the added efficiencies will more than pay for any costs you incur there.
Step 7: Analytics and Split Testing
In digital marketing, analytics are everything. Compared to past marketing forms like print and TV ads, it's so much easier to see what's working and what isn't. Pay attention to all the crucial metrics like bounce rate, click-through, heat maps, and so much more.
But your analytics is only one side of the story. Now it's time to experiment with them. And there's no better way to do this than with split testing.
With split testing, you can see what works and what doesn't. There are so many different ways to play around with it. For example, you may change up formats, including media or not, or even reword the same message.
Use split testing to find the strategies that work for your customer base. But remember, your audience isn't monolithic. That's why you don't want to forget about segmentation. Analytics plus split testing and segmentation will help you achieve that 4400% ROI.
Step 8: Secure Your Marketing Efforts
This is our final step. Security is essential. You know that. Once you have created that awesome email list full of great leads, you don't want to lose it because a cybercriminal thought it would be funny to blast our offensive messages to your email list.
Cybersecurity is the easiest and most affordable thing to invest in. Above all, you need a solid password manager. Password managers help you create lengthy, complex, and unique passwords to secure not just your email account and email marketing service but all your other online accounts.
They're super easy to use, too, making everything you do much safer. Combine this with other tools like VPNs, firewalls, and antivirus to round out your security and reduce your chances of suffering a cyber-attack to virtually zero.
Email Like a Pro in 2021
Email marketing will always be valuable. So, there's never been a better time than now to start mastering it. These tried and tested strategies are what you need to increase engagement and drive conversion to new heights. And after all that we've been through this year, that's something we all need!
Anthony Kolm is currently the Head of Product Marketing for one of the leading IT-startups in Eastern Europe. After graduating from Leipzig University in Germany and earning a degree in Business Administration, Anthony set out to help businesses improve their marketing strategies as well as bring innovation and uniqueness to their everyday processes. Creativity and open-mindedness are one of the key traits he seeks to instill in his company's philosophy.
Join our Facebook Group
We created a Facebook group to better serve the needs of our users.
Facilitate faster support.

Pair users who need custom  work with qualified developers.

Get more in touch with our users to make better decisions for the future.